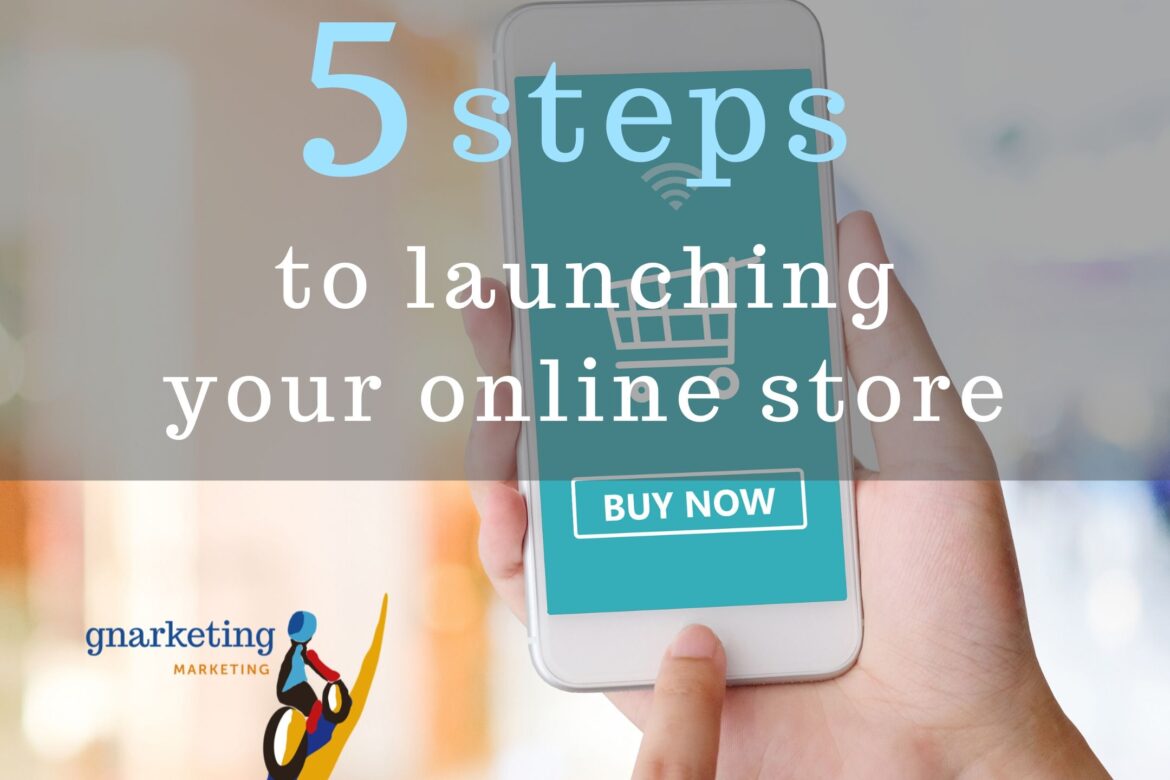 If this is your first time selling online, here are five steps you'll want to consider before launching your eCommerce store.
1. Build your online website
Depending on the complexity of your business and products that you sell will determine the best options for setting up your store. If you are on a budget, we recommend using an e-commerce platform like Shopify or BigCommerce. These sites make setting up your site and store seamlessly. If you use third-party services for accounting or fulfillment, you can connect them. WordPress is a great option if your operation is more complex as it uses plugins to customize how your site works. Your web developer would be the best resource on how to set up your site. Another consideration is the upkeep of the site and adding or editing product information. You want to be mindful of who will be doing this and how familiar they are with different platforms. At Gnarketing we work closely with our clients to customize their site to fit their goals (short and long term) and budget. We also provide monthly services to help brands update their existing eCommerce sites.
2. List your store on Google and other relevant platforms
Once your website is up and running, set up your Google listing. If you don't have an office, google has the option to just list your area, rather than your home address. Your Google listing is a start to helping people search for you. Don't forget to list your business on other relevant sites such as Apple Maps, Yelp, TripAdvisor, or Bing. Remember to keep track of where you have your listings so you can update them and respond to reviews as needed.
3. Set up your social media accounts
Depending on what you are selling will depend on the type of social media accounts that you will need. You also want to take into consideration how much time you will devote to updating your accounts. Facebook isn't for everyone. Twitter isn't always appropriate either. Understanding your target audience will have an influence on which platforms will be the most successful for you.
4. Have a call to action on your website to collect emails
When someone attends your website, the likelihood that they will immediately purchase something isn't as high as you think. Think about your tendencies when browsing other sites – that's right, you are often browsing. While people are just browsing, grab their email. Having an email allows you to connect later and hopefully make a sale or even better, create a loyal customer. Offering 10% off their next purchase is a small price to pay for their email address. Companies pay thousands in ads to get emails from people, so why not spend anything when you can offer a small discount. Don't overuse your discounting power either as you don't want to depreciate your products or services. We will talk more about this in another blog.
5. Consider creating an ambassador program
If you are a new brand, an ambassador program, if managed right, can be a huge source of referrals without the cost of hiring extra salespeople. Ambassadors (also known as affiliates) can be like a megaphone to your brand's message, especially on social media. Ambassadors who have a large fan base or social following, can help you reach your target audience and help boost your credibility. Not sure how to get good ambassadors? Stay tuned for more tips on ambassador programs. If you need any help, Gnarketing works with brands on establishing and managing their ambassador program.
>>Do you need help getting your eCommerce store off the ground? Contact us for a free consultation to see how Gnarketing can support you!